Tag Archives: Derby City Classic
Posted on 15. Aug, 2011 by Mike Fieldhammer.
This months Pool Synergy topic is called "Ten Things." Click here for Sammy's list of lists: http://www.pooltipjar.com/2011/08/10-things-ps-host/
Ten Favorite Photographs
I've got thousands of photographs of pool players, venues, and tournaments. My hard disk space is in the Terabyte range. It would be impossible for me to pick ten favorite photographs that I've shot, but I can pick out ten that have real meaning to me and relate a little story behind each one. Click on any photo for a better look.
1. Let's start with our own Pool Synergy hostesses for this month. Samm Vidal Claramunt played in the APA's US Amateur Championships in November of 2009 at Stroker's II in Tampa, Florida. I traveled with her to celebrate my 40th birthday. Just days before we left, I had my first ever MRI and learned of my CMC or Basil Joint Arthritis. I returned home to a letter from the IRS telling me they'd selected me for a full tax audit for the year 2008. Talk about a triple whammy of bad luck in the span of a week. The good news is I captured this fantastic action shot of the "Cherry Bomb" jacking up for a jump shot. Too bad that great big pool room recently closed. It was the perfect venue for large tournaments. I wonder, what happened to Jeanette Lee's billiard table that was set up in Stroker's II?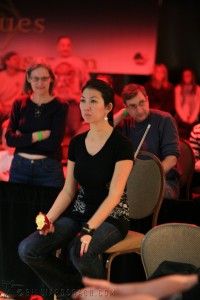 2. Speaking of "The Black Widow", Jeanette Lee is easily the most recognized and remembered professional player in my lifetime. Novice students as well as non pool playing friends and acquaintances always pull her name or moniker out of their head and ask about her. I never get sick of it. It's a good sign for our industry and a real feather in Lee's cap that she's got such marketing penetration. Pictured is Lee in the now extinct TAR Room at the Derby City Classic in 2010. This is the year she won the Louie Robert's Action Award, the title that goes to the player who is in near constant action and often gambles the most during the 10 day event. Lee has always had my respect as a serious gambler. Her nickname, drab/sexy couture, and flirty sharking during exhibitions don't impress me and in fact repulse me. The way she dresses down and gets down for the money does. I doubt there's ever been or ever will be a female player that bets as high and as often as the killer arachnid.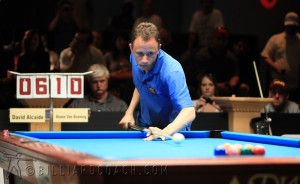 3. Shane Van Boening's devastating 10-Ball break. The South Dakota Kid has been on a wild tear for some time. I can't think of any American player who has benefitted so much by the shift to 10 ball as the tournament game of choice. His break is something to behold.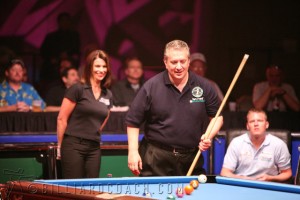 4. If you've been following my blog, you know of my maniacal obsession with snooker. I enjoy watching matches via my computer live from the UK, China, or most recently Thailand. There is some spill over to the United States. Snooker pro Tony Drago and the most famous referee in the world Michaela Tabb appeared in Las Vegas in 2009 for Barry Hearn's World Pool Masters 10-Ball event. That was pool, not snooker, but here is John Morra playing in the Can-Am Snooker event inLas Vegas in June 2009. This makes me dream of going toSheffieldand snapping pro snooker matches. Barry Hearn and Luke Riches (if you are reading this), I'd be happy to cut my teeth taking photos at a qualifier event or even just lugging cables around The Crucible.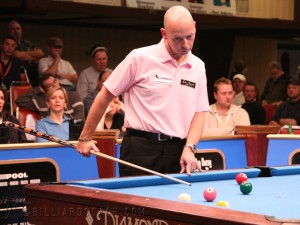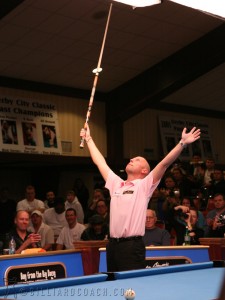 5. Ralf Souquet was just voted into the Billiard Congress of America Hall of Fame. The first European player to get in, "The Surgeon" takes the game very seriously and has played at a top level for many years. I played him in the US Open one year and led 2-1 before he reeled off ten wins in a row to retire me. Watching his focus from the point of an opponent brought new understanding to what this man can do. He's probably the most consistent players and a threat to win any tournament he enters. Also, Souquet is slightly older than me, so it gives me optimism that my game can still improve to reach a higher peak.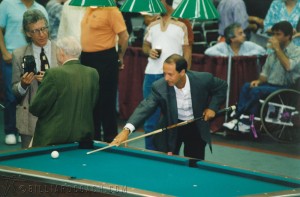 6. Sigel in 1990. This photo is special to me since it marks 21 years of photographing pro pool players. I wrote about this trade show last December.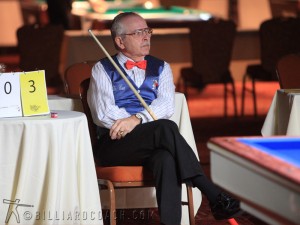 7. Tom "Dr. Cue" Rossman is as serious as he can get with his signature caricature on his vest, his $12 logo watch, and big red bow tie. He is seated in front of a Gabriel Billiard Table enjoying his real passion. An entertainer by trade—the hardest working trick shot performer, competitor, and teacher—he confessed to me that he loves competing in 3-Cushion Billiards. If he ever retired from touring with Marty "Miss Cue" Rossman, he'd probably play loads of three cushion. He's not too bad either, averaging north of .700 I suspect. I also have enjoyed 3-Cushion for over 20 years, thanks to my Bert Schrager cue purchase in '91 and my favorite billiard author Robert Byrne.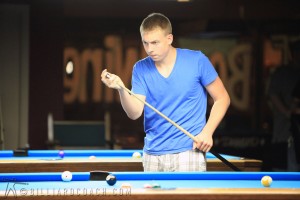 8. Jesse Engel, age 16. Gambling in a ring game with some excellent players in the fall of 2008. I love his expression that seems to say, "Look out everybody." Here he is at the same pool room in a tournament we co-produced a couple of weeks ago. We're driving out to Canton, OH for a Seminole Pro 10-Ball event next weekend.


9. FargoBilliards. Frequent blogging topic for me as I feel it is the best pool room in the country and less than 4 hours from home. This image was also my first cover shot. Billiards Digest used it in their annual architecture awards in the October 2009 issue. I've had many photos of players published in all three pool magazines, but I'm also proud of the work I did for Executive Billiards. I believe they still use this image in some of their ads.


10. Efren. What else can be said about him. If you haven't yet seen him play in person, make it your mission. I know he's been featured in Accu-Stats matches, streaming events, and ESPN telecasts. But I'm telling you, seeing what he does in person is different. I mean somehow indescribable. Sometimes I tell students the difference between me shooting in balls and Efren shooting in balls is like the difference in watching some old dude who can make 100 free throws in a row vs. watching Michael Jordan in his prime knocking down fade-away jumpers. They both count, but one is so much more beautiful than the other.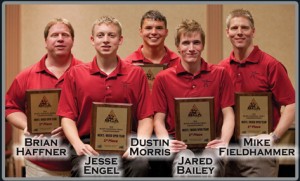 And just because my amps go to eleven, bonus photos that I'm very proud of. Two consecutive years, I've captained "Who Needs a Billiard Coach!?" to national team championships. In 2010 we won the BCAPL Open Team Championship. This year we won the VNEA International Masters Team Championship. I'll have more to write about this year's crazy event soon. It takes a while to sort out all the stories from being on the road for more than a month straight.
Cheers,
Mike Fieldhammer
Posted on 30. Jan, 2011 by Mike Fieldhammer.
Go to see a professional event in person. If you can, compete in it too.
I think the first professional event I ever played in was the 2000 US Open 9-Ball Championships. Barry Behrman's annual event is one of the holy grails of the pro circuit. That event was memorable for me because I played the great Ralf Souquet. I was even ahead 2-1 before I folded up like the cheap suit I was wearing. Final score was 11-2. It was early in the event and there weren't many other big names playing in that round. Souquet and I weren't on the TV table, but we were on table 2 which offered a decent amount of bleacher seating. It was a corner table with plenty of spectators flanking our battleground on two sides. I had never played against a world class player in such a high profile event in front of such a large crowd. The lessons I learned during that match and from watching the rest of the event were priceless.
How a professional should behave
What it feels like to play under the spotlight and pressures I'd never felt before
How to quell the burning embarrassment of making a silly mistake in a crucial situation
How to play in uncomfortable clothing and shoes
Grasping the idea of intensity and focus pros exhibit every single shot
Seeing firsthand how high these players skills rise to meet the occasion
Playing and watching pro events put smaller weekly or regional events in perspective. Getting used to tournament pressure is about becoming comfortable and confident in your game when it really matters. Butting heads with the best in the world can make a player not feel so overwhelmed in a smaller venue for smaller stakes against a regular player.
The entertainment and education one can get at an event like The Derby City Classic can be valuable. This year, I missed the 2011 DCC and am sick about it. It's the first one I've missed in many years. I would have loved to see Alex Pagulayan win the Banks, Dennis Orcollo win the 9-Ball, and Shane Van Boening win the One-Pocket and All-Around title. I've told many friends and students that seeing this event in person is completely different than watching the Accu-Stats DVD's and streams by TAR and Accu-Stats. They only capture a fraction of the pool played. Looking back, some of my favorite matches were not on the TV table.  Matlock vs. Reyes, Deuel vs. Daulton, Reyes vs. Putnum, and Parica vs. Frost were all amazing 1-Pocket matches that weren't caught by any cameras. Seeing these types of clashes in person, I can hardly explain the stratospheric heights the execution and drama reach.
Please do yourself a favor, get to a pro event and play if you can.
Mike
Note:  In the '90′s, I attended many of the of the WPBA, Camel Pro Billiards Tour, MPBA, PBT and PCA events around the Midwest to watch the pros play. The first really high profile event I went to was the WPA 9-Ball World Championships in Arlington Heights, IL in 1997 where Johnny Archer and Allison Fisher won.
Posted on 26. Jun, 2010 by Mike Fieldhammer.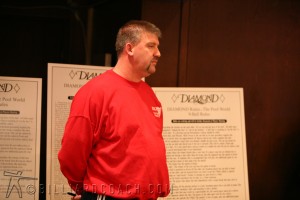 A recent comment from Michael Hughes of Indianapolis reminded me of the great game of bank pool and Michael's powerful banking game. I spent some time with him in 2008 during the Derby City Classic and found him to be down to earth and inspiring. He has a lifelong love of pool and has a particular interest in banks. It isn't a game that many great pool players can dominate. Many of the best banks players are "Specialists" and although great at most games, are a clear cut above the rest in bank pool. Some have mean games of one-pocket, others do well in rotation games, but it seems like the bank players mostly play banks. Walk into Red Shoe's Billiards in Chicago and there will be a raft of killer bank pool cast-a-ways to play.
If bank pool sounds easy to you, I suggest you give it a whirl. You may find it surprisingly tricky. Here's a snippet from the full article on the 2008 Derby City Classic that highlights Mr. Hughes and the bank pool event.
Short rack bank pool requires only nine balls per game−as opposed to the old style fifteen ball version.  Each ball is in play and the winner is the first to successfully bank in five balls.  Bank shots can be challenging under the best of circumstances, but the task is made even more difficult by the 4-1/2 inch pockets on the Diamond nine-foot pool tables at Derby. Early in the tournament, players struggled with seemingly simple banks trying to find the center of the small pockets.

Fans savored the flashy banks of the top players in this discipline while they could.  Cueists of high caliber can finish a bank pool match in the blink of an eye.  Jason Kirkwood finished a player off in seven minutes flat. That calculates to better than two successful bank shots a minute.

A crucial skill needed to succeed in bank pool is knowledge of rail rebound angle in relation to ball speed.  Bankers full of adrenaline in their first match frequently missed banks short.  Too much velocity causes the rail rubber to snap the object ball back at too steep of an angle.

At Derby another puzzle is coping with the unpredictability of cloth: the tables are freshly covered with slippery the brand new Simonis tournament blue. Players were not given much time to adapt with a race to three: the better banker didn't necessarily prevail.  Victory was snatched from the shooter who could not adjust to the table conditions quickly.

Miller, two-time bank pool winner and 2006 all-around champion, dropped a match early to Jason Evans and used his re-buy to make it to round five where he met Michael Hughes of Indianapolis.  Miller said, "I had chances in both matches I lost. I just missed some of those banks that were falling for me in other years."

Hughes is a player who loves bank pool. He developed his passion for the game at a young age, dropping out of high school to clean ash trays and brush tables in Indiana.  Years went by working and playing pool.  Nothing but pool mattered and his fascination with the beauty of banks mesmerized him. Eventually, reaching the ripe age of 21, he became disenchanted with the pool hall lifestyle. He made a life changing decision to go back to school and treat pool as only a hobby. Now pool comes after his wife and his electrician business.  Hughes new approach to his old pool passion, tournament vacation play, has actually provided him a new level of intensity. He warmed up for matches with vigor inducing sweat.  "I'm like a boxer warming up for a fight," said Hughes.  He makes an effort to eat right and sleep enough hoping to perform well in the bank division.

The early elimination Hughes delivered to Miller was not the only surprise during the middle stretch of bank play. Atlanta's past banks champion Moore ran into red-hot 22-year-old Sylver Ochoa in the fifth round.  "I only missed one bank," said Moore of his match with Ochoa. Ochoa's superb play still prevailed over the defending champs one miss and Moore was forced to use his re-buy. In round six Moore drew Jeremy "Double J" Jones, and dropped the first two games of the match.  Moore gathered himself and ran two banks, then three in the next inning to stay alive. He still trailed two games to one.  Game four took on a defensive flavor with Jones outlasting Moore's tenacity for a repeat championship.
Posted on 25. Jan, 2010 by Mike Fieldhammer.
2010 is the second year in a row that the Derby City Classic has been held at the Horseshoe Casino just across the Ohio river from Louisville, Kentucky. It felt strange last year, but this year feels even weirder. Virtually all the Euro killers are absent. Big names from the US skipped the banks and might skip the 9-ball. Why? Some huge tournament in Germany. The World Team Championships or "WTC" promises $100,000 to the winning team of 4 players. I've heard there are already teams from 51 different countries entered in the event that begins January 30. Players from Europe that didn't make the trip to Derby include Mika, Ralf, Neils, Marcus, and Thorston. Yes, Toasty lives in Florida now and Mika in NYC, but they were in Spain for a wicked Predator 10 ball event and just couldn't fathom flying back to the US for a short stay then turning back to Europe for the WTC.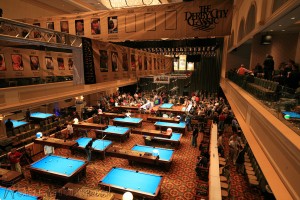 Word is amongst US players is that Shane, Johnny, Rodney, and Corey won't even play in the Derby 9-ball event because they fly out in just a few days. This is crazy stuff for the 12th annual Derby City Classic. Is this sinking in? All of these players mentioned so far are recognizable by their first names. And Derby has been along with Barry Behrman's US Open 9-Ball Championships the flagship pool tournament in the United States. What gives?
I guess the World Pool Association didn't mind scheduling their WTC on a conflicting weekend with the DCC because Greg Sullivan didn't sanction his event with the WPA. It seems to me that there is a list of criteria that needs to be done to gain the WPA stamp of approval, but maybe it was too much of a headache or maybe the nature of the blind draw and re-buy every round doesn't comply with WPA regulations. Too bad, because in my opinion it would have been worth the hassle to ensure all of the world's best players could attend this year's DCC.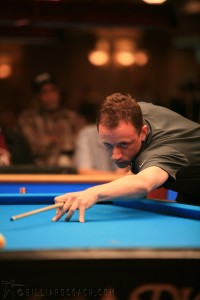 I know that in the last few years there is great gambling action on the first weekend in the TAR pit and other tables at the event. My impressions this year were that it was VERY quiet the through the first few days. At the Executive Inn, you could barely find an available table at 1 am to play on. This year some evenings at 10 pm you have your pick of nine footers.
I think the final number of entries for the Banks was 356 players. It is generally over 400. The One-Pocket event might have been just shy of 300 players and it seems that many of the first round losers might not even buy back in. Consequently, rounds are running quickly and with time to spare. This could be seen as a good or bad thing. Players here know to expect a long wait to play their first match and an even longer wait to play their second. This year Paul Smith and Ed Scott have done a nice face lift to the tournament draw software. Next round match draw times are posted on the scrolling update page and there haven't really been any postponements as in prior years. The tournament web page is thankfully available in the Horseshoe guest rooms this year, a massive improvement in convenience over last year.
The best thing about this year's event is that the Filipinos are here. Once again I'll say that every player deserves a chance to see Efren play one pocket in person. It is as close to a spine chilling pleasure in billiards as you can get. All the Pinoys play fantastic one hole and they are here in numbers. Alex, Jose, Rudolfo, Fransisco, and of course Efren. Watch them if you can.