Tag Archives: Chicago
Posted on 30. Jan, 2011 by Mike Fieldhammer.
Go to see a professional event in person. If you can, compete in it too.
I think the first professional event I ever played in was the 2000 US Open 9-Ball Championships. Barry Behrman's annual event is one of the holy grails of the pro circuit. That event was memorable for me because I played the great Ralf Souquet. I was even ahead 2-1 before I folded up like the cheap suit I was wearing. Final score was 11-2. It was early in the event and there weren't many other big names playing in that round. Souquet and I weren't on the TV table, but we were on table 2 which offered a decent amount of bleacher seating. It was a corner table with plenty of spectators flanking our battleground on two sides. I had never played against a world class player in such a high profile event in front of such a large crowd. The lessons I learned during that match and from watching the rest of the event were priceless.
How a professional should behave
What it feels like to play under the spotlight and pressures I'd never felt before
How to quell the burning embarrassment of making a silly mistake in a crucial situation
How to play in uncomfortable clothing and shoes
Grasping the idea of intensity and focus pros exhibit every single shot
Seeing firsthand how high these players skills rise to meet the occasion
Playing and watching pro events put smaller weekly or regional events in perspective. Getting used to tournament pressure is about becoming comfortable and confident in your game when it really matters. Butting heads with the best in the world can make a player not feel so overwhelmed in a smaller venue for smaller stakes against a regular player.
The entertainment and education one can get at an event like The Derby City Classic can be valuable. This year, I missed the 2011 DCC and am sick about it. It's the first one I've missed in many years. I would have loved to see Alex Pagulayan win the Banks, Dennis Orcollo win the 9-Ball, and Shane Van Boening win the One-Pocket and All-Around title. I've told many friends and students that seeing this event in person is completely different than watching the Accu-Stats DVD's and streams by TAR and Accu-Stats. They only capture a fraction of the pool played. Looking back, some of my favorite matches were not on the TV table.  Matlock vs. Reyes, Deuel vs. Daulton, Reyes vs. Putnum, and Parica vs. Frost were all amazing 1-Pocket matches that weren't caught by any cameras. Seeing these types of clashes in person, I can hardly explain the stratospheric heights the execution and drama reach.
Please do yourself a favor, get to a pro event and play if you can.
Mike
Note:  In the '90's, I attended many of the of the WPBA, Camel Pro Billiards Tour, MPBA, PBT and PCA events around the Midwest to watch the pros play. The first really high profile event I went to was the WPA 9-Ball World Championships in Arlington Heights, IL in 1997 where Johnny Archer and Allison Fisher won.
Posted on 08. Jul, 2008 by Fieldhammer.
I just got news that Brunswick is pulling the plug on their Brunswick Home & Billiard stores in Denver. I guess back in 2003 they thought opening company owed retail stores might be a good idea. They opened 2 stores in Denver and one each in Chicago and Boston. Now that times are tough they are closing the two in Denver. No idea about the other two locations.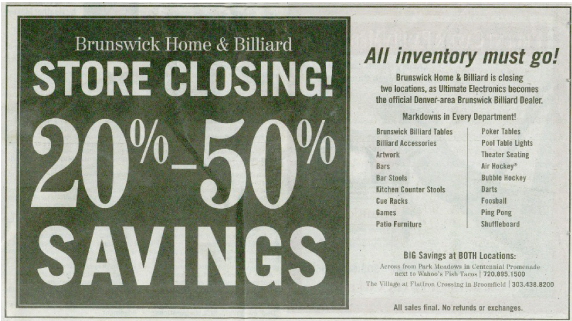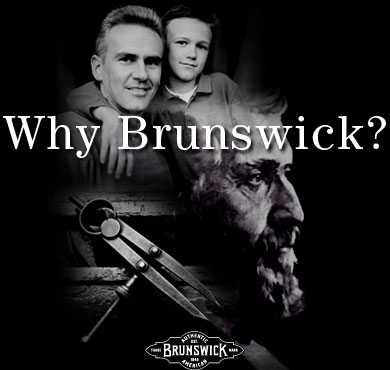 Brunswick has been the market leader for pool tables and game room furnishings since 1845 because we offer the industry's largest selection of high quality product, backed by a lifetime warranty and supported locally by the best dealer network in the business.

We offer something for all tastes and budgets, from legendary heirloom-quality furniture, to traditional yet durable pool tables starting at just $1,499. All of our products are installed in your home with the same level of world-class service and attention to detail. Don't be fooled by competitors who arbitrarily inflate their retail values so they can offer the perception of huge savings and then use independent contractors to coordinate your installation.

There are real reasons why families and professional players for over 161 years have chosen Brunswick over the competition. With Brunswick you get the best products and service at competitive prices everyday.