Tag Archives: Pool Rooms
Posted on 15. Jul, 2011 by Mike Fieldhammer.
6 Things You Should Know Before Coming Back to the Game of Pool
So you're thinking of making a comeback, huh? Do yourself a favor and read up before you enter the shark's den. Brushing up on this knowledge can make your return to the ring much easier, more enjoyable, and less stressful. For PoolBum's introduction to this topic and for links to all the PoolSynergy writers, visit PoolBum's blog here.
Review pool room etiquette. Don't be the bad guy by unknowingly offending players. Review my past article about proper behavior here.
Read and know the current game rules. Things may have changed since you last picked up a cue. Last pocket 8-ball is a gambling gimmick. 1 and 15 in the side pockets is strictly for the old guys at the retirement home. Now there's ball in hand anywhere and anytime. Racking rules (where certain balls must be placed in the triangle) are pervasive.
Check your equipment. Nowadays, 19 ounce and lighter are the standard. Especially for break cues. Faster cloth, livelier cushions and tighter pockets call for precision and touch. Those heavy hunks of lumber you used to push the balls around are antiques. It'd be like a reincarnated Bobby Jones trying to play a 7,500 yard US Open golf course with his Niblick, Mashie, and Spoon.
Gambling is more dangerous. Years ago if you played just a little bit, you'd have a good chance at winning several dollars in casual games for money at the pool room or bar. Today, if you gamble, you'd better be ready for a tough game! The level of play these days is miles ahead of the standard of 40 or 50 years ago. This is the most important thing I can tell you about gambling: Post Up! This means both players shall place take their wager and agree to put it on top of the light or have a houseman hold the dough. This is for everybody's protection. The winner will get paid and hopefully sour feelings or words won't get in the way of the debt being paid off. Much more could be written about matching up, but this will have to suffice for now.
Know if you'll practice alone or want to play against someone else. The days of showing up and having many opponents to choose from are gone. Leagues might take up all the tables. Call a friend first. Call the pool room first and make sure you can get a pool table.
Don't be forced into a game you don't care for. Keep an open mind about playing various games, but remember that if you picked up pool for your love of One-Pocket, Banks, or Straight Pool by all means play those games. Younger guys will pester you to play 9-ball, 10-ball, or 8-ball. Give them a try if you like, but don't be afraid to ask them to play your game. You may pick up some great ideas from their fresh approach to your classic game. Likewise, trying their game might teach you a few new shots.
Nearly four years ago, I wrote an article on this same topic. Check that old piece out for a couple of other ideas. The 2007 article is located here.
Welcome back and enjoy your time at the pool table. Consider them golden.
Posted on 28. Jun, 2011 by Mike Fieldhammer.
I just returned from another great event at Fargo Billiards & Gastropub.
Archived matches that Dave and I streamed are at: http://www.ustream.tv/channel/davesroom
I'll provide more details very soon, but here are a few photos from the event. The following write up is from Mike Page.
Fargo Summer Shootout, June 24-26 2011              — Results
Eighty one players from eight US states and three Canadian provinces converged on Fargo North Dakota June 24-26 for the second annual Fargo Summer Shootout.  The tournaments were held at Fargo Billiards & Gastropub, on its 35 Diamond 7' tables with Simonis cloth and red circle cueballs.  In the end it would be the player from Illinois, St. Louis area's Justin Bergman, who would prevail in both the $500 added 9-ball event and the $2500 added 8-ball event.
The race-to-7 winner breaks 9-ball tournament began Friday evening at 6 pm.  Bergman finished that event undefeated, getting through Bill Beaman (Bismarck, ND), Dean Flanders (Fargo, ND), Daryl Phillips (Aberdeen, SD), Dave Coon (Minneapolis, MN), Shane Jackson (Minneapolis, MN), Berry McClean (Winnipeg, MB), and Lee Heuwagen (Minneapolis, MN).
Play in the 8-ball race-to-5 main event started around noon on Saturday, but the day had already been hopping for a couple hours by that time.  The Gastropub provided a complimentary breakfast spread for the players and their guests at 9:30 am.  Two of the thirteen Gabriels 9-foot tables at Fargo Billiards were opened up for the weekend as challenge tables, and both had been going for a while before the 11 am full-field Calcutta that would grow to $9,300.
When a family emergency precluded OTBNtv from streaming the events as scheduled, Dave Coon & Mike Fieldhammer from Minneapolis stepped in to provide an excellent stream with dual commentators.  Archived matched can be found at http://www.ustream.tv/channel/davesroom.
The tough 72-player 8-ball field was played down the first day to four on the no-loss side and eight on the one-loss side.  Some of the top 8-ball players who failed to make the second day include  Marc Oelslager (Fargo) ,  Mario Parayno (Minneapolis), and Ryan Solleveld (Winnipeg).   In the two winner's side matches Sunday at noon, Rory Hendrickson (Fargo) beat Felix Beardy (Winnipeg) by a score of 5-3, and Justin Bergman (St. Louis) beat Jamie Pluta (Minneapolis) by a score of 5-2.   Bergman then beat Hendrickson by a score of 5-1 to win the driver's seat position.  On the B-side, Pluta beat Beardy 5-2 for the chance to face Hendrickson.  Hendrickson won the match 5-2.
In the finals of the tournament, Fargo Billiards & General Manager & House Pro Rory Hendrickson would need to beat the young Justin Bergman twice.  Hendrickson won the first match 5-2, setting the stage for an exciting final set of the tournament.  Bergman, the runner-up finisher in the January Fargo Midwinter Shootout, evidently returned to Fargo to close the deal, as he won the final set by a score of 5-3.
Plans are underway for the next Fargo Midwinter Shootout, January 27-29, 2012.
2nd Annual Fargo Summer Shootout – June 24-26, 2011
8-Ball Results
1.                           Justin Bergman                                 $1800  (+3270)
2.                            Rory Hendrickson                            $1100  (+2330)
3.                            Jamie Pluta                                        $700    (+1680)
4.                            Felix Beardy                                       $500    (+1120)
5-6.                        Michael Perron Jr.                           $300    (+470)
Lee Heuwagon                                 $300    (+470)
7-8.                        Vince Chambers                               $200
Jesse Engel                                         $200
9-12.                      Ryan Liebl                                           $100
Justin Volk
Jeff Sakellson
Dwight Boucher
13-16.                    Demetrius Jelatis                            $70
Darcy Gilkes
Craig  Stainbrook
Austin Sissel
17-24.                    Ryan Sollevold                                  $40
John Thorson
Dean Flanders
Shane Jackson
Ben Hill
Joshua Morigeau
Nick Jones
Dave Coon
9-Ball Results
1.                            Justin Bergman                                 $600
2.                            Lee Heuwagon                                 $400
3.                            Berry McClain                                   $300
4.                            Ryan Sollevold                                  $200
5-6.                        Shane Jackson                                   $110
Dwight Boucher
7-8.                        Rory Hendrickson                            $80
Vince Chambers
9-12.                      Dave Coon                                          $60
Mario Paranyo
Jesse Engel
Craig Stainbrook
13-16.                    Keith Malcolm                                  $30
Austin Sissel
Darcy Gilkes
Ryan Liebl
Posted on 05. Jul, 2008 by Fieldhammer.
The last year has been tough on pool in the Twin Cities. This week another casualty: Q-Sharks in Burnsville. Word is they closed their doors July 1. Andy and Don opened it in May of 2000, I believe. Don sold out to Andy several years ago and Ken purchased the whole deal about 18 months ago. I was always impressed with the look and feel of the place. The one and only pool room to feature all Diamond pool tables in Minnesota. That is until they had to try to cater to the league players and swapped out numerous 8 footers for a mix of Diamond and Valley bar boxes.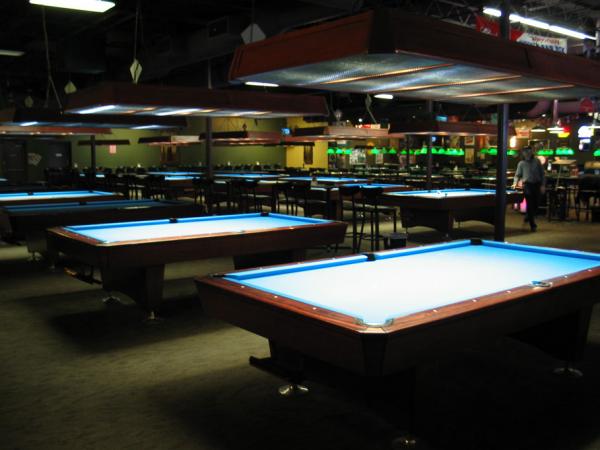 They tried the old standard of adding beer and wine. Not enough to keep them afloat. Sad.
This is the latest in a string of closures in the Twin Cities. I smell another auction coming our way. The bidding began six months ago with longtime pool table sales outfit Ace Billiards in Plymouth closing up shop. Even though Jeff's modestly sized showroom in a less than flashy building just one block off Highway 55 didn't make business sense. I spoke to him as he was clearing the last few items out of his space and he was surprisingly upbeat. He continues to be an active table mechanic and thinks he'll be just fine without the overhead of rent and huge inventory.
Just this April, Eddie's Billiards in Maple Grove had a well publicized internet auction. Eddie's had a long run in what should have been a nice niche in the Twin Cities. The Northwest corner of the metro area had no pool room since the demise of Brianne's in the early '90's. As an aside, many of the tables from Brianne's went to City Billiards/New City which went under last year.
All of this change is part of the billiard business, I know. What troubles me is that there are not any new rooms popping up to take their place. We need to replenish the dwindling pool player population. Joints come and go, but they are going at an alarming rate and not coming frequently enough. We've got to support existing pool rooms and give entrepreneurs a reason to open new pool rooms. I shudder to think what might happen if any more establishments close down. I wonder, what are the odds are on a new pool room opening up before one closes down? Brrrrr!
Could The Corner Pocket (formerly Doc's), Jimmy's Pro Billiards, or Fat Boy's be the next on the auction block? Let's hope not. Play some pool this summer, please.
Mike