Tag Archives: pool tables
Posted on 04. Jan, 2012 by Mike Fieldhammer.
Tip #4/31 for January. What size pool table should I buy for my home?
This one is a great tip suggested by June Maiers. Props to June! She's a great player of all games and runs an excellent junior league program. She wrote to me, "How big does your room need to be if you are trying to fit a 7-foot, 8-foot or 9-foot table? I saw a few Craig's List adds where the person said they bought the table, have it and now need to get rid of it because it didn't fit."
Kramer plays pool in a tight home room.
Well, I say having a pool table in your home is great but if you have to resort to a short cue too often, it can take some of the joy out of playing the game. Many homes have rooms large enough for a table but have one trouble area. You know, maybe there's one wall that's a little too close and if the cue ball is frozen on that rail you've got to shoot with a cue that's a foot shorter than the standard 57″ one piece pool cue. Some rooms are a little better and only have a post that hampers that one shot out of 500. Lucky you! Jacking up or using a short cue rarely is a fine trade off. If your table is really too big for the spot, playing can be maddening. Try to get a table as large as you can handle that won't make you crazy. Remember, it's nice to have a little breathing room around for spectator chairs and for the non playing shooter to hang out without having to lean on the table.
I have a great relationship with one of my sponsors Peters Billiards in Minneapolis. They're a great retailer that sells Brunswick and Olhausen pool tables. I'm attaching a pdf file that has their recommendations on what size room will accommodate what size pool tables. And if you're ever in the area of 35W and Crosstown, please stop into the store. Tell 'em the Billiard Coach sent ya.
Posted on 15. Jul, 2010 by Mike Fieldhammer.
PoolSynergy – July edition – "What's your story?"

This month's theme, What's your story? will be hosted by Michael Reddick, Angle of Reflection and you can view the summary and links to all this month's articles at:
http://angleofreflection.wordpress.com/2010/07/15/poolsynergy-whats-your-story/
My pool playing experience began in my maternal grandfather's basement in Glenwood, Minnesota. High on a hill, overlooking Lake Minnewaska, my grandparents had a split level home with a rec room just beneath the ground level with a big 8' Brunswick from the 30's or 40's. Scarred with cigarette burns from its previous home in a bar, it resembled the anniversary model by Brunswick. It had tattered white plastic wrapping on the two oval legs, but did have the white racing stripes around the skirt.  One side of the table was bleached from the southern sun pouring in through the picture window. Classic red pockets were held in place by weak tacks and crumpled newspapers from the 60's.
I'm not sure of the first time I played pool, but this was definitely the table and the time was probably when I was about seven years old in the 70's.  Before that my younger brother and I started horsing around on the table by whipping balls down the length of the table at each other trying to cause a mid-table collision. This occasionally got out of hand and turned into a game of chicken.  We learned to watch our fingers or they might get squished against the cushion or worse yet a game ending smash between balls while reaching for or releasing the next projectile.
This kamikaze game didn't last long—grandpa hated when balls hit the press-on tile floor or when a grandson was leaking tears. When he coaxed me into holding a short stick and pushing balls around with the cue, I was hooked. Even watching my older cousin Brad, who had his own blue two-piece cue, was interesting.  When grandpa deemed me old enough to join a game of 8-ball or cut-throat, I dove right in.
Grandpa taught proper chalking and gave me the line to the pocket from the object ball to help me sink balls.  Sink. This was a word he used constantly and not a word I hear commonly around the pool rooms. The other Grandpa terms used were "Kitchen" for behind the head string and "Granny" for the mechanical bridge. Not Grandma upstairs in the kitchen. She was "Mother". Granddad's aiming aid was standing behind the pocket and hovering his cue stick over the pocket with just the tip barely on the other side of the object ball. "Just hit the six below my tip," he'd say. The instructions were simple and true, but not easy to execute.
Grandpa had some old school house rules.
1. Break the balls with the break cue ball and then swap it for the playing cue ball.  No penalty, but don't improve your position. If the replacement was very delicate, one more shot was required before the ball exchange.
2. In 8-Ball, scratch and you spot one. Make one and scratch, spot two.
3. Always play scratches from the kitchen.
4. I don't recall the drive a ball to the rail penalties, but other fouls were shoot from the kitchen.
5. He had to bank the 8-ball to win. This was his spot to give me a chance for the first couple of years.
Grandpa was never a great player, but he really enjoyed having a game with the boys and visiting about guy stuff in the basement.  It was about being social first and about competition second. As I was pleased to sit and watch the men play before I was old enough to join in, Grandpa was happy to sit and watch the younger fellows play when he got older and wasn't quite up to playing. His classic table is still in the family and holds great memories. Four generations have played on and talked over games on the old Brunswick.
End of part 1.  In the next part of this story, I go to college. One with four regulation 9 foot tables!  Please stay tuned.
Note:  I'm searching for some old photographs to add to this article. I am hoping to dig up a couple of shots soon. Also, I am considering posting comments by my Mother and two Aunts.  These are all three of my grandpa's children.
Posted on 08. Jul, 2008 by Fieldhammer.
I just got news that Brunswick is pulling the plug on their Brunswick Home & Billiard stores in Denver. I guess back in 2003 they thought opening company owed retail stores might be a good idea. They opened 2 stores in Denver and one each in Chicago and Boston. Now that times are tough they are closing the two in Denver. No idea about the other two locations.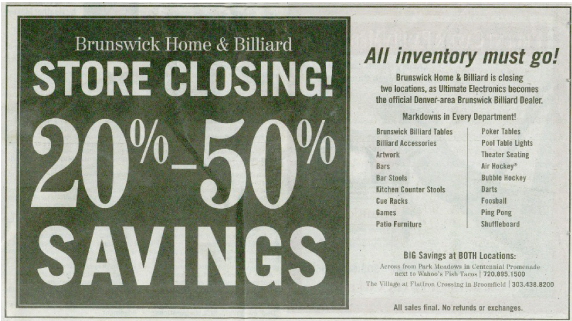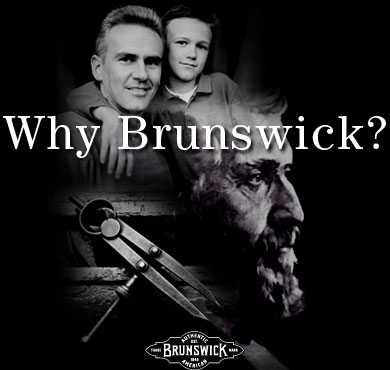 Brunswick has been the market leader for pool tables and game room furnishings since 1845 because we offer the industry's largest selection of high quality product, backed by a lifetime warranty and supported locally by the best dealer network in the business.

We offer something for all tastes and budgets, from legendary heirloom-quality furniture, to traditional yet durable pool tables starting at just $1,499. All of our products are installed in your home with the same level of world-class service and attention to detail. Don't be fooled by competitors who arbitrarily inflate their retail values so they can offer the perception of huge savings and then use independent contractors to coordinate your installation.

There are real reasons why families and professional players for over 161 years have chosen Brunswick over the competition. With Brunswick you get the best products and service at competitive prices everyday.