Tag Archives: HTC EVO 4G
Posted on 14. Jul, 2010 by Mike Fieldhammer.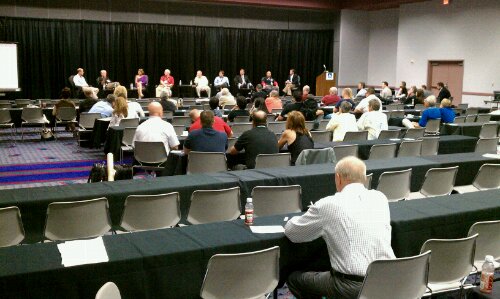 Las Vegas again. I'm launching the new Samsara line, networking, and shopping. More news soon.
Posted on 13. Jun, 2010 by Mike Fieldhammer.
It's been quite an eventful past couple of weeks. After Vegas, I spent a week in Denver with Samm. Then we headed to the Samsara shop in Rugby where Jim Stadum, Dave,  and I worked together to design their new line of cues. I can't wait to see the prototypes!
I can't give away too much about the designs, but I pushed for old school points with veneers in a classic color scheme and Jim smoked it out of the ballpark with a great Samsara-esque touch that might make this cue my favorite of the bunch.  For a few of the other cues, we're shaking the trees to pull out some rare woods and combinations that will be stunning.  While at the shop, some of the best curly maple I've ever seen showed up so there will be a couple of cue designs that will really sing.
Next, we were off to the Sprint store in Fargo to pick up my new phone. This phone was just being launched and was so in demand that the Sprint internal computers crashed nationwide! Fortunately, we were able to visit our friends at Fargo Billiards while we waited. Talk about good service! Mo stayed late to ring up my phone and even delivered it to Fargo Billiards for us. What a guy!
Technical specs break down…
After only one week of use, here are some things I love about my new phone:
The Gmail | Facebook | Address book integration
The beautiful screen
Crazy GPS with Google Maps integration (I haven't event tried the Sprint Nav yet, why bother?)
The kick-a$$ 8 megapixel camera!
My favorite apps so far are:
K-9 Email
Advanced Task Killer
CallTrack
fring
NYTimes
And just because they are so cool and show off the power of hand-held devices:
SoundHound
Google Goggles
It is such a versatile and powerful phone, It'll probably take me quite a while to figure out the best ways to use it.  Here are some photos of the phone and the final large image of the Caribou Coffee shop is an actual image from the 8 megapixel camera in the phone.