Posted on 14. Jul, 2010 by Mike Fieldhammer in Announcements, Billiard Industry News, Equipment, Save Billiards, Uncategorized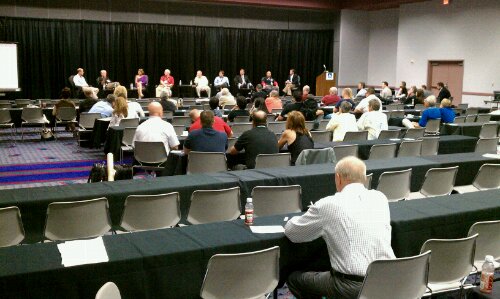 Las Vegas again. I'm launching the new Samsara line, networking, and shopping. More news soon.
Tags: Billiard Congress of America (BCA), Billiard Industry, HTC EVO 4G, Las Vegas, New Cue Designs, Samsara Cues
Main Forum • CSI BCAPL annual dues fee change

BCA Pool League Membership Fee ChangeCueSports International, Henderson, NV (August 6, 2018) - CueSports International (CSI), parent company of the BCA Pool League (BCAPL), is pleased to announce that effective immediately, league members will no longer be required to pay an annual membership fee for each BCA Pool League they join.  Each member can play […]

Mike Fieldhammer
Main Forum • Hofstatter and Davenport into HOF!

Hofstatter, Davenport Elected to Billiard Congress of America Hall of FameBroomfield, Colo., August 3, 2018 - The Billiard Congress of America Hall of Fame welcomes two of the game's top players of the '90s to the class of 2018. The United States Billiard Media Association today announced that Austrian import Gerda Hofstatter Gregerson and "California […]

Mike Fieldhammer
Main Forum • Efren Reyes vs Dustin Morris -- 8-Ball -- This Friday June 8

Title says it all except location:Jimmy's Pro Billiards at 40th and Central Ave N in Columbia Heights, MN.

Mike Fieldhammer
Mike Fieldhammer and Billiard Coach Twitter Updates
Pages
Ads that help pay for this site.
Billiard Industry Companies and Press
Billiard Products
Cue Makers
Instructional Websites
Places I Play
Professional Player Websites
Streaming Video