Posted on 04. Jan, 2013 by Mike Fieldhammer in Announcements, Tournament Reports
Well, it's that time of the year. Time for the 32nd annual Seco Varani KC Club Pool Tournament.  32 Players each day. 8-Ball on Saturday and 9-Ball on Sunday. Tournament directors Rich and Bev Arendts keep this event running smoothly and held the locals only event today. Here are the results.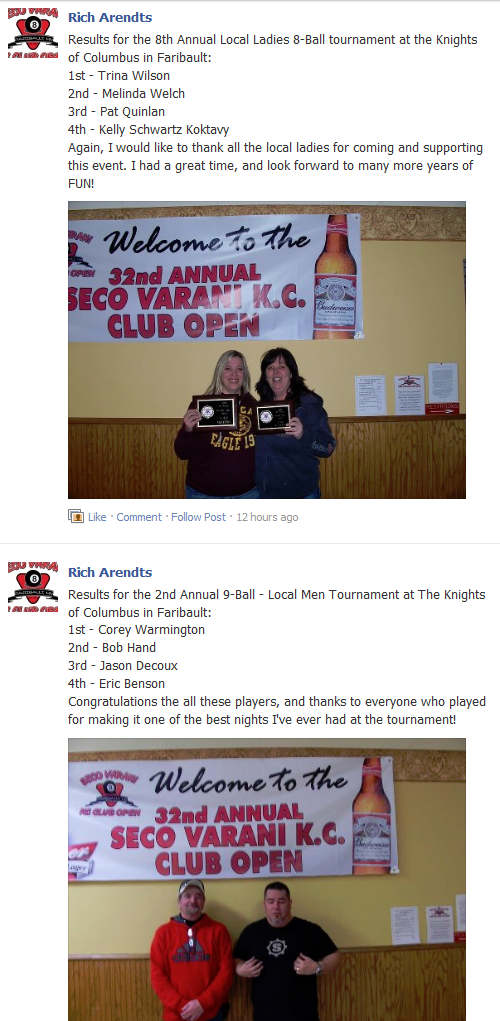 The big player auction for the 8-ball begins at 10:30 (I think) and here's the list of players.
Derek McMaster
Seco Varani
Mike Fieldhammer
Charlie Garza
Jeff Van Sickle
Rory Hendrickson
Tony Piazza
Jamie Pluta
Micheal Perron Jr
Dan Voeller
Matt Benton
Demi Jelatis
Gene Albrecht
Nick Marsolek
Tim Tonjum
Josh Shones
Ken Thomas
Shawn Minick
Guy Thompson
Tony Zierman
Kris Brenke
Ty Wilson
Rick Tonjum
Josh Raines
Johnny Meyer
Dustin Morris
Weston Broad
John Stich
Sean Johnson
Brandon Guse
Nate Rinehart
Matt Bussert