Posted on 05. Jul, 2008 by Fieldhammer in Announcements, Pool Rooms
The last year has been tough on pool in the Twin Cities. This week another casualty: Q-Sharks in Burnsville. Word is they closed their doors July 1. Andy and Don opened it in May of 2000, I believe. Don sold out to Andy several years ago and Ken purchased the whole deal about 18 months ago. I was always impressed with the look and feel of the place. The one and only pool room to feature all Diamond pool tables in Minnesota. That is until they had to try to cater to the league players and swapped out numerous 8 footers for a mix of Diamond and Valley bar boxes.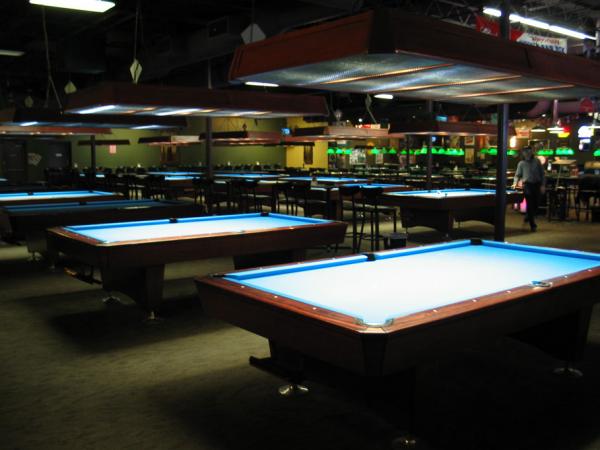 They tried the old standard of adding beer and wine. Not enough to keep them afloat. Sad.
This is the latest in a string of closures in the Twin Cities. I smell another auction coming our way. The bidding began six months ago with longtime pool table sales outfit Ace Billiards in Plymouth closing up shop. Even though Jeff's modestly sized showroom in a less than flashy building just one block off Highway 55 didn't make business sense. I spoke to him as he was clearing the last few items out of his space and he was surprisingly upbeat. He continues to be an active table mechanic and thinks he'll be just fine without the overhead of rent and huge inventory.
Just this April, Eddie's Billiards in Maple Grove had a well publicized internet auction. Eddie's had a long run in what should have been a nice niche in the Twin Cities. The Northwest corner of the metro area had no pool room since the demise of Brianne's in the early '90's. As an aside, many of the tables from Brianne's went to City Billiards/New City which went under last year.
All of this change is part of the billiard business, I know. What troubles me is that there are not any new rooms popping up to take their place. We need to replenish the dwindling pool player population. Joints come and go, but they are going at an alarming rate and not coming frequently enough. We've got to support existing pool rooms and give entrepreneurs a reason to open new pool rooms. I shudder to think what might happen if any more establishments close down. I wonder, what are the odds are on a new pool room opening up before one closes down? Brrrrr!
Could The Corner Pocket (formerly Doc's), Jimmy's Pro Billiards, or Fat Boy's be the next on the auction block? Let's hope not. Play some pool this summer, please.
Mike