Posted on 25. Jan, 2010 by Mike Fieldhammer in Announcements, Tournament Reports
2010 is the second year in a row that the Derby City Classic has been held at the Horseshoe Casino just across the Ohio river from Louisville, Kentucky. It felt strange last year, but this year feels even weirder. Virtually all the Euro killers are absent. Big names from the US skipped the banks and might skip the 9-ball. Why? Some huge tournament in Germany. The World Team Championships or "WTC" promises $100,000 to the winning team of 4 players. I've heard there are already teams from 51 different countries entered in the event that begins January 30. Players from Europe that didn't make the trip to Derby include Mika, Ralf, Neils, Marcus, and Thorston. Yes, Toasty lives in Florida now and Mika in NYC, but they were in Spain for a wicked Predator 10 ball event and just couldn't fathom flying back to the US for a short stay then turning back to Europe for the WTC.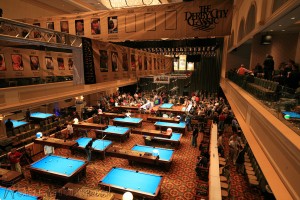 Word is amongst US players is that Shane, Johnny, Rodney, and Corey won't even play in the Derby 9-ball event because they fly out in just a few days. This is crazy stuff for the 12th annual Derby City Classic. Is this sinking in? All of these players mentioned so far are recognizable by their first names. And Derby has been along with Barry Behrman's US Open 9-Ball Championships the flagship pool tournament in the United States. What gives?
I guess the World Pool Association didn't mind scheduling their WTC on a conflicting weekend with the DCC because Greg Sullivan didn't sanction his event with the WPA. It seems to me that there is a list of criteria that needs to be done to gain the WPA stamp of approval, but maybe it was too much of a headache or maybe the nature of the blind draw and re-buy every round doesn't comply with WPA regulations. Too bad, because in my opinion it would have been worth the hassle to ensure all of the world's best players could attend this year's DCC.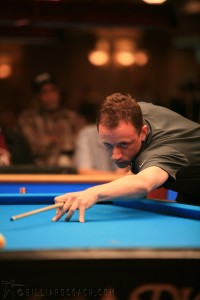 I know that in the last few years there is great gambling action on the first weekend in the TAR pit and other tables at the event. My impressions this year were that it was VERY quiet the through the first few days. At the Executive Inn, you could barely find an available table at 1 am to play on. This year some evenings at 10 pm you have your pick of nine footers.
I think the final number of entries for the Banks was 356 players. It is generally over 400. The One-Pocket event might have been just shy of 300 players and it seems that many of the first round losers might not even buy back in. Consequently, rounds are running quickly and with time to spare. This could be seen as a good or bad thing. Players here know to expect a long wait to play their first match and an even longer wait to play their second. This year Paul Smith and Ed Scott have done a nice face lift to the tournament draw software. Next round match draw times are posted on the scrolling update page and there haven't really been any postponements as in prior years. The tournament web page is thankfully available in the Horseshoe guest rooms this year, a massive improvement in convenience over last year.
The best thing about this year's event is that the Filipinos are here. Once again I'll say that every player deserves a chance to see Efren play one pocket in person. It is as close to a spine chilling pleasure in billiards as you can get. All the Pinoys play fantastic one hole and they are here in numbers. Alex, Jose, Rudolfo, Fransisco, and of course Efren. Watch them if you can.